What is Igbo traditional attire called?
Isiagu, commonly known as chieftaincy, is the name of the traditional clothing worn by Igbo males. A sizable ethnic group with a vibrant culture and heritage is the Igbo people. The Igbo people lived mostly in Nigeria's eastern region. It was crafted from premium suede materials.
The loincloth was the clothing of choice for Igbo men before the invention of this and other materials. This cloth is a piece of clothing that protects a man's intimate areas. The loincloth was frequently tied at the rear or held in place by a belt. Back then, this was worn for markets and outdoors.
As this region of the world became more civilized, men began to use various materials as ornaments. Igbo men's wardrobe has now gained sophistication with the emergence of the Isiagu outfit.
This article is a detailed guide covering exciting facts about Igbo traditional attires. It highlights their types, styles for men and women, attire ideas for 2022, and other information.
Types of Igbo traditional attire
It is difficult to imagine that the Igbo tribe's clothing customs were ever so dissimilar when one looks at today's ladies, men, and kids. There are different Igbo attires for men, women, and kids.
Igbo people having almost no clothes on them is probably unimaginable to modern Nigerians. Even a century ago, Igbo parents would allow their kids to walk barefoot or wear only enough clothing to cover their privates.
Confident youngsters frequently put coral-colored beads or other forms of jewelry to complete their "undressed look" around the waist. Such customs were only appropriate for young children who had nothing to conceal (as the tribe believed). Naturally, adults always covered their bodies and adorned them with Igbo traditional art.
Types of Igbo traditional attire for women
Some Igbo ladies used to dress in ekwerike to honor their festivals in the past. In other words, they bound their waists with a sturdy cloth. Others opted to paint their bodies with colored decorations like ufle, nzu, edo, and uri.
A wrapper, a scarf, and a lovely shirt with gorgeous puffed sleeves and embroidery on the fabric make up modern Igbo women's clothing. Wax and guipure textiles are commonly used to make blouses (gele).
Type of Igbo traditional attire for men
Igbo men have worn loincloths, a piece of clothing that covered the male body's private areas, for centuries. The favored traditional male dress in Igbo culture consists of a unique top and pants. In daily life, most males dress in plain cotton robes (wrappers), a light shirt, and sandals. Many Igbo men enjoy pairing their traditional clothes with caps. It is frequently referred to as agwu, okpu agu.
Type of Igbo traditional attire for kids
While many girls covered their chests with necklaces and beads decades ago, the custom of allowing most youngsters to remain uncovered until adulthood has altered. Igbo children today are typically dressed up and appear adorable. They resemble miniature versions of adults. Igbo individuals like to be wearing new styled apparel more.
What shapes do Igbo Men wear?
The sort of cap a person wears is the first component of modern Igbo traditional clothing for males. The color of the cap denotes status and place. The next item is a shirt called an Isiagu that is similar to an African dashiki.
League (or Ishi agu) apparel is typically designed with lions' heads embroidered (usually black). The beads worn on the feet, hands, and neck come next. The last item is a pair of pants worn with either a traditional hat for title holders (a fez called an ok agu or agwu) or an Igbo striped men's hat (which resembles the Bobble hat). The type of clothes that Igbo men choose to wear is listed below.
A cap or hat
Feather in cap for titled men
Beads around the neck
Beads on wrists
Long knee-length shirt (called Lsiagu)
A trousers or wrapper
Shoes or sandals
What attires do Igbo Women wear?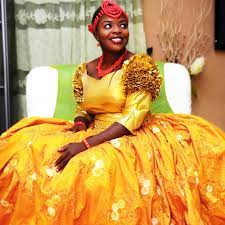 The women dress in skirts, blouses, and headgear. On occasion, they like traditional wrapping over skirts. Their wrists and neck are adorned with beads. Most ladies choose contemporary sandals or flat shoes to finish the outfit.
Mothers and women enjoy wearing extra wrappers (using two instead of 1), and they especially enjoy wearing this kind of clothing when it is made of Holland fabric. The list of traditional attires women used to wear are as follows;
A headgear
Beads around the neck
Earrings
Beads on wrists
Beads on feet
Shorts blouses
Skirt or wrapper
Sandals or shoes
Interested to know more about 'Fulani Braids styles', read this article: What Are Fulani Braids? Top 16 Best Tribal Fulani Braids Ideas In 2022 in our fashion category.
Igbo Traditional Attire Ideas for women 2023
If you're looking for the greatest logo, modern clothing ideas for a bride's traditional wedding or engagement ceremony, lace blouses for Owambe or Asoebi, churches, naming ceremonies, or other special events.
We have compiled a list. Following is the list of 10 latest traditional attire ideas for Igbo women in 2022;
Nigerian Lace Styles Dress
Lace Gown Styles
Turban Headbands Style
Gele lace style for Asoebi outfit
Lgbo wedding styles dresses
African Fashion Ankara style attires
Traditions gowns style
Ankara long gown style
Lace blouse styles with George Wrapper
Lace blouses with "Abada" or wax patterns on the wrapper.
Igbo Traditional Attire Ideas for Men 2023
Igbo men still like to wear the latest Isi-agu style attires for ceremonies, functions, or everyday work. The most recent Isi-agu fashions show a wide range of innovations as wearers switch from the traditional outfit's native appearance to an ultra-modern interpretation. Below are the latest Isi-agu styles for men to be followed currently.
Ankara casual style shirts for men
Senator attire
Silk George wrappers
Dapper attire with blue and white George wrapper
Fuschia Pink and Gold men's George wrapper
Short sleeves is-agu shirts
Long sleeves is-agu
Mix and match Isi-agu
Isi-agu Agbada
Kaftan Robe
Final Words
This article highlights some of the latest styles of Igbo traditional attires for both men and women. Igbo attires become very popular in the Nigerian fashion industry and get a lot of changes in their designs when Igbo culture gets under the influence of colonialism and the Westernization of, Western-styled clothes such as shirts and trousers over traditional clothing. Their sizzling attire style and modern color trends leave a lasting impression on fashion-savvy people. Make sure to give these amazing new styles a try.
Frequently Asked Questions (FAQs)
Apart from this, if you are interested to know more about Takuache Haircut then visit our FASHION category.